Avoid the UX Krampus: Our Top 5 Articles of 2018
4 min read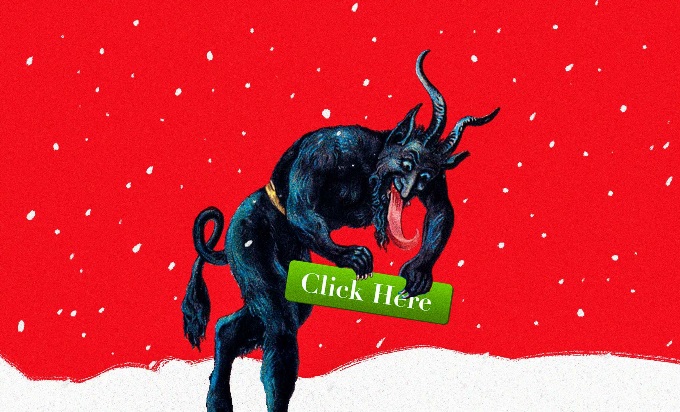 Summary: Listen to our advice and you'll avoid the UX Krampus.
Have you been a good UX practitioner this year? It's that season, when the UX Krampus wanders through the internet at night, punishing those responsible for bad UX with a bundle of switches and a large, grungy sack he uses to drag the worst offenders off to his horrible lair.

Avoid UX Krampus this holiday season with our top five user experience articles of 2018. Read this insight and use it to practice good usability. Let UX Krampus pay a visit to someone else with a frustrating, hard-to-use digital product. That's our gift to you this year – five solid pieces on a variety of usability and digital product topics that will keep you on your users' nice list.
A lot of web professionals create user personas. And a lot of them make those personas up. That means their personas are basically worthless for determining the needs and goals of real people. Engage your actual users to help you make your personas. That's how you get personas that actually work to make your site or app a UX success.
Our readers really liked the user personas this year. This article takes "Made-Up Personas Don't Work" further to explain how to create successful user personas. Follow this advice and you'll be able to create personas that help determine the correct direction for your digital product.
In 2018, our office learned about How I Built This, a fantastic podcast from NPR, and our content team listened to the episode with Airbnb co-founder Joe Gebbia. He explained that in the early days, they had ended up observing their customers try to use the Airbnb app. Then they fixed the (very large) issues their users had uncovered. Folks, they had accidentally discovered user testing and it saved the company.
In a nutshell: The previous app was a mess. It was complicated. Customers were leaving over it. Once Airbnb fixed the issues, customers and revenue skyrocketed. They were able to get investors. And now you can rent a treehouse in downtown Atlanta or an over-sea bungalow in Bora Bora. Go read our article and listen to the episode – it really is a great story.
Stakeholders can seem like a persistent swarm of angry bees, attacking from every exposed angle (some of which you didn't even know were exposed). In this article, we offer five pro tips for surviving and managing stakeholder attacks.
As a follow-up to this piece, we hosted a UX Columbia Meetup event where three experts discussed their tactics for building relationships with stakeholders, which we recapped in "Stakeholder Survivalist Report: How to Get Buy-In for Your Brilliant UX Ideas." Brilliant, master-class-level advice from those experts. Definitely check it out.
Honestly, this one was a little surprising. We didn't include it in our Real UX email newsletter. We didn't promote it. Professionals who we very much respect feel like they have to go through the red tape of RFPs, even if they don't necessarily want to.
But we felt that we had to say it—RFPs, required or not, simply aren't the best way to find a partner that's a good fit. For all the reasons why, see the article. At the very least, the piece inspired frank discussion and conversation from readers. And a lot of them echoed our call for a change in the process.
Give the Gift of Good UX
Pass all of this solid UX thinking on to your users and your organization in the form of truly usable, intuitive, enjoyable digital products that support your business online in the new year.
As for us, we're looking forward to sharing more user experience advice, knowledge, and how-tos in 2019. We have fun surprises planned. We're going to tackle some must-know usability topics. To paraphrase old Scrooge, we'll honor UX in our hearts and keep it all the year. And, of course, we'll continue to help you practice good usability so UX Krampus never has a reason to pay you a visit in all the years to come.
About truematter
Our team has been doing the real work of user experience since the earliest days of the commercial web. We're out to make your digital products a whole lot better.