Preserve Your Valuable UX Investment With a Simple Budget Change
7 min read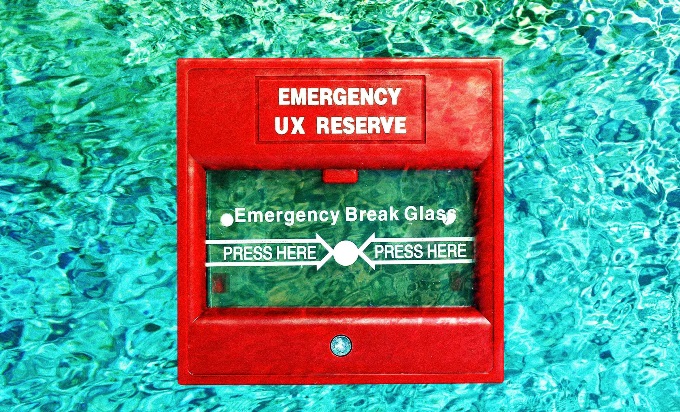 Summary: Success of your digital product depends on how you follow-through with user experience during development and testing. Always set aside UX budget for this critical phase.
Let's say you're responsible for creating or redesigning a digital product from the ground up. You understand the value of solid user experience (UX) so you involve UX professionals early. They work with developers, designers, content strategists, and stakeholders to define and design your product. Heck, the team even makes a prototype and tests it with real users. It's all very agile. You're doing it right.
It comes time for the development team to produce and ship real code. This is where things can fall apart. If you're not careful, you might accidentally squander your UX investment as you take your product to launch.
Bon Voyage, UX
After definition and design is done, user experience resources tend to leave the project. Internal team members move on to the next thing. External consultants reach the end of their budget, declare victory, and are never seen again. In any case, user experience expertise, input, and oversight fades away when it is needed most.
When the UX resources leave, the work isn't done. As the development team, project managers, and business analysts move through implementation, they must make key UX, UI, front-end, design, and content decisions themselves.
Amazingly, this happens in organizations that care deeply about UX. Inexplicably, it also happens with development teams ostensibly devoted to agile processes. Leaving UX experts out of the development effort is a common, critical mistake.
Things Change During Development
As an interactive app, site, or software project moves through development, questions and issues inevitably arise. Functionality is more difficult to implement than anticipated, requirements must be modified, stakeholders change their mind, third-party tools present unforeseen problems. As these things change, your digital product will change as a result.
These changes will affect user interaction, some quite significantly. This is the moment you need UX experts who can deal with these new usability problems. But at this point they've moved on and you probably don't have any hours left in the budget to ask them anything anyway.
Product testing also means changes as your team discovers problems and implements solutions. But, with nary a UX expert in sight, no one will test your digital product's user experience. Invariably, you'll miss important interface problems.
Guesswork Kills Quality
But, you may think, it's okay. There are more than enough developers, project managers, and business analysts to help with UX gray areas. Our product testers are rock solid. We've got this. The problem is, these people are not user experience experts.
Most developers are, to put it mildly, not adept at solving UX/UI or design problems. They'll tell you this themselves. Managers are ready to get the project out the door. They don't have any extra time or money. The digital product must ship. Business analysts are trained to solve problems for internal stakeholders, not for the people using your product. Testers stick to whatever the test plan says.
These folks will make the best guesses they can about user experience quality. Those guesses will not reflect user experience best practices. Your users will suffer. This why many finished digital products can be so disappointingly different from the original fancy designs and tested prototypes.
Squandering Your UX Investment
So, what happened to the promise of the brilliantly easy-to-use digital product, destined to be an outstanding, push-the-needle business tool for your company? What happened to that significant up-front user experience investment?
It died of neglect.
When it comes to UX, most organizations hold fast to three false notions:
It is limited. UX is something you do only at the beginning of a project.
It is irrelevant to development. UX work stops at planning and designing.
It isn't always needed. UX has no clear project oversight role, so it's unneeded as you careen toward launch.
None of these are correct. If all of the changes you make during development happen without UX guidance, the final product will suffer. Noticeably.
The Right Way
You will avoid squandering your UX investment by changing the way you approach user experience:
Recognize that UX plays a valuable role throughout your entire project. This is especially true for real-world, spur-of-the-moment decisions made during implementation.
Developers should not work in a vacuum. Would you allow your development team to implement a mission-critical project without check-ins with managers, business analysts, or testers? Neither should you developers work without input from user experience professionals.
Your project needs UX oversight during testing and launch. This follow-through is the best way to protect your user experience investment.
When you change the way you approach user experience, you also have to change the way you manage your UX resources. You must create a process that ensures UX experts are available to help through the launch of your digital product.
Keep a Reserve of UX Help
Always hold back UX resources for mid- to end-of-project decisions, interactions, and development needs. User experience professionals should be ready to spring into action through the end of the project.
What will UX resources do in the mid and end phases of a project? Here are just a few examples:
Collaborate – Participate in regular project scrums, check-ins, demos, and interactions with stakeholders.
Make Interface Decisions – Help developers make interface, design, and content decisions, addressing issues that inevitably arise during development.
Champion the User – Explain to stakeholders and leadership how their mid-project ideas, changes, or whims will affect users.
Test with Users – Test functionality in progress with real end users.
Test for Quality – Test the product's quality with an eye for UX problems, then help developers fix them.
Take Responsibility – Ensure the integrity of the original UX vision for the product.
Reorganize Your Wallet
Yes, keeping user experience experts engaged through the end of the project will affect your budget. You must plan for using and paying your UX resources though launch.
Depending on the size and complexity of your project, you can expect to incur an additional 20 to 30% over your initial UX budget to use for mid-to late-project UX collaboration, input, and oversight. This is not a hard and fast rule, but it is a useful guideline. Let's keep the math simple:
If you spend $10,000 on UX resources to define and design your project, expect to reserve an additional $2,000-$3,000 for follow-through during development, quality assurance testing, and launch.
If you spend $100,000 on early-project user experience efforts, hold back and additional $20,000-$30,000.
And so on.
Counting the Cost
These numbers may be eye-opening and somewhat startling, but they hold true for organizations who are making high-quality, easy-to use digital products. That amazing benchmark you envy so much almost certainly planned their budget this way.
And honestly, what costs more? Doing things right the first time, or fixing business-killing problems after the fact? What's wiser? Using the right tool for the right job, or asking your plumber to do your taxes (or your accountant to fix your pipes)? Everyone knows the answers to these questions.
What is a UX Resource?
Of course, organizations define "UX resources" differently. Some think of UX narrowly, including only information architecture, usability, and user testing professionals in the mix. Others define UX more broadly, factoring in visual design, content strategy, and front-end interface professionals. Stick to the reserve percentage, and your project will be well-served.
How to Manage Your New UX Reserve Budget
Try the "UX Reserve" method on your next project. You'll notice significant advances in product quality and user satisfaction. Chances are good your overall costs will actually decrease, because you won't be spending money on endless UI adjustments.
Internal Team Management
Resource Availability – Schedule resources for mid to late stages of the process. Reserve specific people early so you don't lose them later.
Schedule the Right People – Include UX resources in all scrums, project check-ins, or stakeholder demonstrations. Don't forget to include design, content, and front-end professionals.
Test Your UX – Adjust your quality assurance testing plan to include a UX/UI review.
Consider Phased Efforts – When projecting future project phases, always factor in a UX reserve.
Managing External Resources
Think Ahead – Plan to hold back a part of your UX budget to spend mid and late project. If you are authoring an RFP, include this as a requirement.
Demand a Hold Back Plan – Ensure external consultants are in sync with this plan. Demand they have a plan to hold back time for later stage involvement. Hold them to it. Solid firms will already be thinking this way.
Break Up the UX Reserve – If you are concerned about preserving budget, consider separating your UX Reserve into two sections, implementation and testing.
General Guidelines
Sign-Off - Ensure a UX lead signs-off on all major project deliverables. This is no different from getting the approval of developers, managers, and business analysts.
Get Team Buy-In – Make sure your existing team both understands and accepts the value of user experience focus in later stages of your project. It may be awkward at first, but your developers in particular will grow to love it. After a while, they won't know how they ever did anything different
The UX Reserve Pays for Itself
Including user experience experts throughout your entire project life cycle may seem like a big step, but it's one you must make if you want to build exceptional digital products. The budget hit will sting at first, but the effort will more than pay for itself through better user experience quality, fewer bugs, easier-to-use functionality, greater user efficiency, and more satisfied customers.
About truematter
Our team has been doing the real work of user experience since the earliest days of the commercial web. We're out to make your digital products a whole lot better.